---
The senior squads comprise of a committed bunch of athletes who train to compete at a range of events throughout the country. They compete at the highest level, as well as local events with success in both sweep rowing and sculling.
Our squads are open and friendly.
Squads have dedicated award winning coaches who manage the training program and provide technical instruction.
Recent Successes:
Women's squad
2019:
Lucy Iball won the Bernard Churcher Trophy for Aspirational singles at Henley Women's Regatta.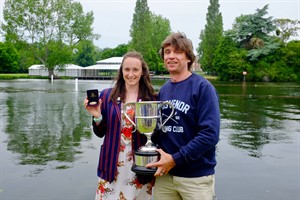 Lucy with coach Paul Turner
Lucy went on to compete at Henley Royal Regatta in the Princess Royal Challenge Cup. She is the first female athlete (other than coxes) to race at HRR.
Lucy Iball and Maddie Archer represented Wales at the Home International Regatta.
Lucy won Gold in WLw1X. She also raced in  WLw2X and W4X
Maddie competed in W4+ & W8
The squad were winners in W4+ at Shrewsbury regatta and W4- at Chester Regatta
2018:
Winners of 2X club shield at British Rowing Championships. Winners at Notts City LW1X, W1X. Met Regatta WT2 1X. Chester Regatta W8. Henley Women's Regatta. Three crews: AC8, AC1X, ChLwt1X. Home International Regatta. Wins for Wales in W4+ & WLwt2X.
The Womens's squad coach, Chris Hudson and three members of the squad were selected for the Team Manchester crew at the inaugural Power8's Sprint Championship. 
2017: Women's squad athlete Lucy Iball represented Wales at the Home International regatta in Lwt 1X and 2X
2016: The Women's squad finished 29th (2nd fastest provincial club) and 79th at WeHoRR. Finalists at Henley Women's Regatta, in the Club 8's event.
2015: U23 Gold medal at British Indoor Rowing Championship.
2014: Winners of the Lester Trophy (Club 4's) at Henley Women's Regatta., Second fastest crew for the Di Ellis trophy at WeHORR. (30th overall).
Past successes include:
Men's squad
2007- 2013:
14th at the Head of the River Race, semi finalists in the Wyfold Challenge Cup, quarter finalist in the Thames Challenge Cup, seeded crew in the Britannia Challenge Cup and Winners of men's eights for Wales at the Home Countries Regatta, HRR qualifiers in 2013