---
Grosvenor has a lively group of masters rowers who train nearly as hard as the seniors and take their rowing just as seriously.
Recent successes.
2018:
Head of Trent. Winners E8+
Vesta Veterans Head of River Race. E8+ came 35th out of 211 crews.
Northwich Spring Head. Winners G1x; WE1x; E4x and F4x
Shrewsbury Regatta . Winners WC4x; E8+; G1x; D4 and F4+
Nottingham Masters and Club Regatta. Winners D1x and E4
British Rowing Masters Championships. Bronze Medals for E4 and F4+
Henley Masters Regatta. Winners D1x and F4+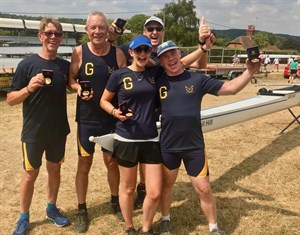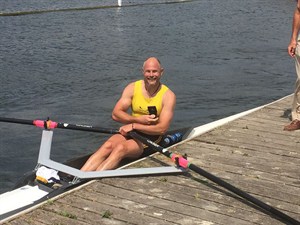 European Championships in Munich. Winners. Mixed Masters 2x
2016. Winners of Mas D IM3 8 at British Rowing Masters. Finalits of E4+ at Henely Masters.
The vets compete at sculling and sweep at all levels. From the local heads and regattas to BR Masters, Vet Henley and to international masters events. 
As many of the graduates of our learn to row courses are of veteran age (over 27) we now offer the option of joining the veteran novice squad.
There are novice and IM3 veteran categories at many regattas and this squad caters for those who cannot make the time commitment required of the novice squad but who want to improve their rowing and compete successfully at masters events.