Grosvenor Rowing Club, Chester, had great success last weekend  with  both end of the Club's age scale coming home with medals.
First up were our Masters Squad who were competing at Henley Masters 2018, on the famous Thames course of Henley Royal  Regatta.
This regatta, now in its 24th year, is an internationally recognised event for Masters Crews,
with competitors coming from as far afield as Australia and United States of America to compete against  athletes in their age group
Masters rowing starts at 27 years old and is banded right through  to 80+
So  to achieve success in this event is really something special,
Especially, as with most International events, there are athletes taking part that have, in their prime, represented their countries at rowing
Both Grosvenor's coxed  Four of, Mike Allwood, Mark Bancroft, Brian Chapman, Bruce Belcher, coxed by Caroline Paterson and Single Sculler Iwan Jones,
returned to Chester with Gold Medals after beating  in the finals, Star Club and York City respectively.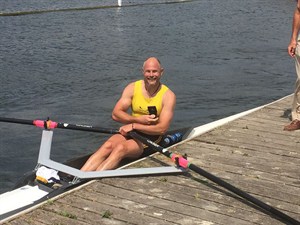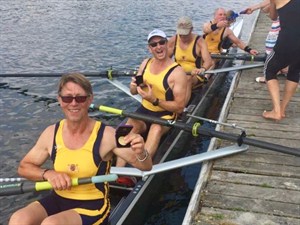 The Coxed four hit a strong rhythm throughout the event beating Abingdon by 1.25 lengths and Durham by 2 lengths in the quarter and semi-final races and won the final in 3 minutes 50 seconds against a particularly strong Star Crew in 3minutes 50 seconds, whilst Iwan's Masters D  final against  York City was won Easily( more than 3 lengths) in a an impressive time of 4 minutes 22 seconds.
At the other end of the age scale the Junior Squad took part in the Ball Cup at Runcorn. This competition originated in the 1930's  when Frank Ball realised that however much smaller Clubs and schools competed in Junior Regattas, they could never be competitive match for the Public School Giants. In modern times it is split into North and South Venues and allows a round robin approach to competition with  4-6 athletes in each section. We had 2 Winners in this Runcorn Rowing Club based event, Rachel Mclean, who was successful in J14A  Sculls And Sasha Audas who won J15A sculls