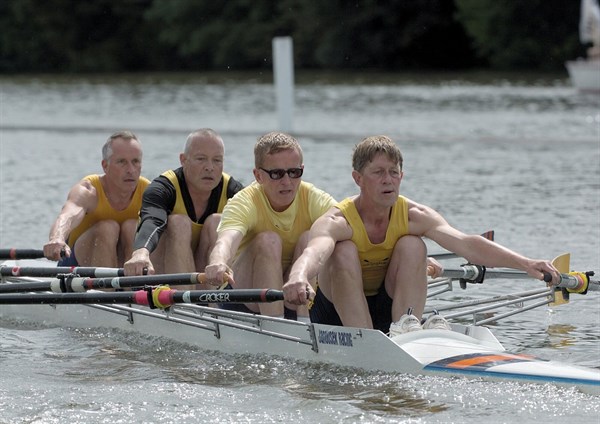 John McMahon at 3
Last week sadly saw the passing of former Grosvenor member John McMahon after a long illness.
I (and many of the vets) had the pleasure of knowing John from the time he joined the novices, along with his son Alex, when he was in his late forties. Alex's heart was not in it, but John caught the bug, and after that his enthusiasm for rowing, and especially racing, knew no bounds.
'Pots' McMahon was part of a very successful four which quickly garnered its novice pots and won at senior level at a number of subsequent regattas.He then rowed briefly with me in the Senior Men before we both joined the Vets in around 2000, where he stayed until recently when health issues and family commitments took him away from the club.
John could best be described as a 'character', who enriched the lives of everyone he met. Some of the vets have given me their favourite recollections.
Ian Tweedie remembers doing a double at the Boston Marathon, being driven along by John's unshakeable determination to win despite towing a train of weed behind the boat. He says John's drive was better than his ability to go in a straight line, a fact to which a number of his contemporaries can attest. Ian remembers winning at Bewdley regatta despite mounting the bank en route.
Captain Pete Abbott recalls an ergo test he did alongside John. John's score was a little below par and next day he took himself on his bike to the GP for a checkup. He was sent home, but later in the day, still feeling poorly, he cycled to the doctor again and was told he was having a heart attack, and not to get back on his bike! Undeterred, he was soon back on the water equipped with a few stents and an enthusiasm for cutting all fat out of his diet. This he did by replacing butter with extra jam on his toast, so he soon developed diabetes, after which he cut out all sugar too.
Chairman Nick Lindop told me of his memorable ride home from a blues concert he and Debbie had attended with John and his wife Elaine. Elaine was driving and after a full and frank discussion about the correct route John decided that the satnav was wrong and that he would take over navigation. Needless to say, they got lost in the middle of Wrexham.
I have a few favourite memories:
- Training in a flotilla of single sculls, looking round after hearing an exultant yell: 'I've cracked this Feet out Square Blades!' to see a pair of feet slowly lift into the air before John rolled into the water.
- John's falsetto rendition of Little Donkey, all five verses, at a memorable vet dinner. The thought of it still renders me helpless with laughter
- Winning Vet Henley in a quad with John, Brian Chapman and Steve Walker, the first Henley win for all of us
As well as rowing, John was always prepared to do his bit for the club. He was a committee member for a number of years, and came up with many novel ideas for economising and fundraising. For example he initiated and administered a scheme to rent out club car parking spaces to local workers during weekdays. It frustrated John that his suggestions, which he saw as self evident truths, weren't always taken up by his fellow committee members, but that never stopped the flow of ideas.
After he left the committee, John's questions at the AGM were always a challenge looked forward to by the incumbent team. They made sure they had the answers well prepared!
As well as his enthusiasm for rowing John had a full life, with many talents and interests. He loved blues music, outdoor challenges of all sorts and pub quizzes, he was a devout and active Catholic, but most important to him was his family: wife Elaine, children Alex and Natasha, and latterly son in law Stuart and grandchildren Monty and Magnus.
Our sympathies are with them, and we remember John fondly.
Mike Allwood. 27th February 2022