Grosvenor rowing club was honoured to be granted a row-past by Sir Steve Redgrave on the Saturday lunchtime of Henley Royal Regatta.
Henley Royal Regatta is one of the highlights in the summer's sporting calendar and attracts over 100,000 spectators for the five day event.
The club's eight 'Grosvenor 1869 - celebrating 150 years' was used to row the world famous 2112m course.
The row-past was umpired by Olympic Silver medallist Guin Batten, who allowed the Grosvenor crew to complete a racing start before rowing the rest of the course in a processional format, followed by the 1979 winners of the Grand Challenge Cup, 1979 winners of the Thames Challenge Cup and Monmouth School Rowing Club, who also celebrated their 150th Anniversary.
The boat was coxed by Sarah Armstrong, a Grosvenor member for 25 years, she coxed the first ever Welsh eight to victory at the Home International Regatta and has been a part of the most successful men's crews in Grosvenor's history at both Henley Royal Regatta and Head of the River.

Helen Mangan stroked the boat; she was the first Grosvenor athlete to win an open national championship medal and was the first Grosvenor athlete to be selected for Great Britain in 1988.

Juliet Machan was also part of the Great Britain squad and won the open world championships in 1998, she Captained Grosvenor for two years and was awarded Life membership in 1999.

Jeremy Lush has been a member for over 30 years. He was captain in 2005 and has rowed as a junior, senior and now a successful master's rower for the club. The Lush family have played a significant role in the clubs history with father David Lush holding various committee positions including the role of Trustee for a number of years.

Paul Turner is current head coach and has led the performance arm of the rowing club. He showcased his coaching skills on a national platform alongside Sir Steve Redgrave on ITV4's documentary 'Redgraves Raw Recruits', a programme that captured the rowing development of 40 men from Liverpool on their path to Henley Royal qualification. He has coached some of the most successful athletes in the club's history. He won the clubs first international race at Ghent Regatta in 2007 and was a semi-finalist in the Wyfold Challenge Cup.  

Maddie Archer has been a member of the club for just 18 months but came top 10 at the first GB trials, which led to GB training camp selection in Sierra Nevada. She won the club double, alongside Lucy Iball at the Open British championships in 2018 and won gold at Home Countries with the Welsh squad.

Gareth Syphas won the U23 British Indoor Championships with Grosvenor and represented Grosvenor at GB trials. He credits learning to row at Grosvenor and Paul Turner's training programme for his continued success at Oxford Brookes University, where he won the Temple Challenge Cup and then made the final of the Ladies Plate in 2018.

Tanith Allwood is current club captain; she won the Lester Trophy at Henley Women's Regatta in 2014 and represented England at the Home International Regatta that same year.

Phil Hill has been a member for 30 years and was part of the most successful Thames Challenge Cup in Grosvenor's history; he has coached and held various committee positions throughout his time at the club.

 
The club continued the celebrations at Henley Cricket Club club, members and friends drank prosecco and enjoyed their quintessentially British picnics on the lawn! Grosvenor's 150th Anniversary is shared with several international rowing clubs and Jim Freis, a representative of two of these, Potomac Rowing Club, USA and Frankfurt Rudergesellschaft Germania 1869 e.V. joined Grosvenor to offer an exchange of rowing kit from other 1869 clubs. Past and present members raised a glass to the past 150 years and to the new found international friendships.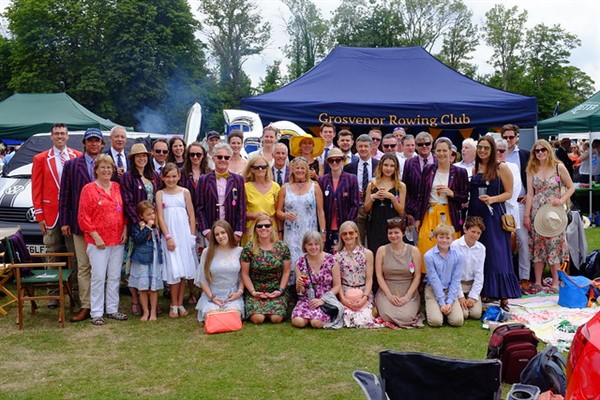 The club is extremely proud of its humble beginnings, it was created for the 'clerks and assistants of the city' at a time when rowing was considered to be for the upper social classes. The club has long stayed true to it's club motto 'virtus non stemma' (translated into virtue, not pedigree or less formally, courage, not pomp). The club continues with this open membership philosophy and now has junior, senior, masters and adaptive rowing. For 150 years, the club has thrived under the leadership of outstanding volunteers and the Henley row-past boat contained  just a selection of past and present high achievers both on and off the water.
Grosvenor continue their celebrations in October with a ball at Chester Cathedral and are fortunate to have Kings Chester alumni, World Champion, Victorious Cambridge blue and double Olympic Champion Tom James MBE, as guest speaker. It is still possible to join Grosvenor for these celebrations, please email info@grosvenor-rowingclub.org.uk if you are interested in learning to row, joining a squad or simply sharing in our social events. New members are always welcome to help us shape the next 150 years...