Dee Autumn Head Race
The Dee Autumn Head took place in almost ideal conditions on Saturday 29th October here in Chester on the River Dee.
A warm autumnal day saw  nearly 300 crews from all over the UK, as well as local rowers, competing over the 4200 metre course from the A55 Road Bridge to the Kissing Gate on the Meadows opposite the steps on Dee Lane.
Grosvenor Rowing Club was the most successful of the Local River Dee Rowing Clubs with 7 wins across the day, followed by Royal Chester with 4 wins, Kings School 3, and Queens Park High School with 2, as crews of all ages and standards competed against each other over the endurance distance.
Grosvenor Rowing Club started the day with wins in Masters E, and Women's IM 2  Quads, with times of 14.37mins and 15.39mins respectively. They were joined in the medals by Steve Walker who won Masters G single scull, Women's Master's C/D Coxed 4,Women's 1M 2 coxed 4,and Master's D Eight of Nick Lindop, Hal Whyman, Tim Dodd, Tim Howe, Gees Hegarty, Alan Cox, Mike Hughes Richard Bach and coxed by Ann Griffiths.
A special mention should be made of Grosvenor's Adaptive Squads tremendous result, competing at their first ever event, on their home river, with 3 boats spread across both divisions and  winning their first ever medals.
A full list of the Dee Autumn Head results can be found on Grosvenor Rowing Club, Chester web site:-
Attached Photos:-
Master's E quad.. fastest Masters boat of the day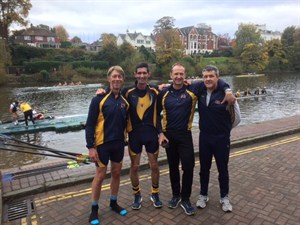 Left to right:- Mike Allwood, Mark Tilston, Mark Banks, Jeremy Lush
Boats along the Groves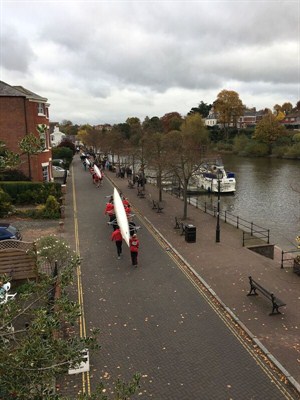 Boats queuing to boat at Grosvenor Rowing Club prior to the race
Grosvenor Senior Men preparing for race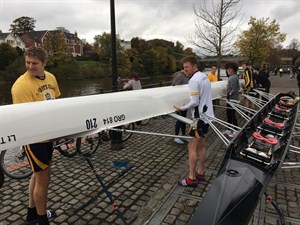 Grosvenor Senior squad crew of Carl Zolman, Dave Peak, Hywell Griffin, Juan Alonso Herrera, Jim Graves and Ross Wilkins prepare to boat
The Finish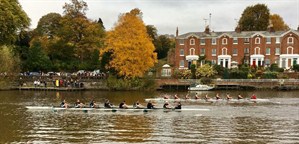 Race for the line with 2 of the Senior 8's competing in the Dee Autumn Head